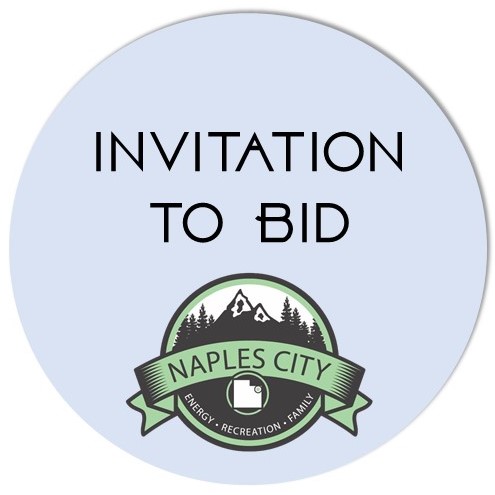 INVITATION TO BID
NAPLES CITY
1900 South Crosswalk Project
Naples City is requesting written bids on moving a crosswalk on 1900 South. All bids must be turned in to the city office at 1420 East 2850 South in Naples, Utah no later than June 26, 2019 at 1:00 PM. Contact Jim Harper at 435-828-5554 or naplesroad1@gmail.com
This project requires furnishing of all Labor, equipment, tools, supervision, and liability insurance to perform the project. The awarded bid must supply traffic control to federal and state standards.
The project includes the following:
· Demolishing the cement ADA ramps at the old crosswalk and constructing new sidewalk and curb to UDOT specifications.
· Demolishing the cement and other cement marked for the new crosswalk.
· Constructing new crosswalk and ramps to ADA standards.
· Relocating existing crosswalk signs and other related signs to new assigned location.
· Removing old paint markings from asphalt and curb and painting new markings at designated areas.
· Creating a 2-foot by 8-foot iron detectable surface on each side of the crosswalk.
Please provide contact information, experience, and at least 3 references with the bid. Naples City will offer an incentive for a 21-day contract. All written bids shall be legible.
Naples City Council reserves the right to reject any and all bids and to accept any bid, or portion thereof, which, in their opinion, is most advantageous to the City.
https://naplescityut.gov/wp-content/uploads/2019/06/School-Zone-Estimated-Map.pdf
https://naplescityut.gov/wp-content/uploads/2019/06/Crosswalk-Location-Map.pdf
https://naplescityut.gov/wp-content/uploads/2019/06/crosswalk-invitation-to-bid-6.17.19.pdf