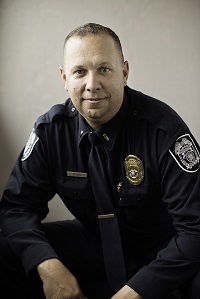 We at the Naples Police Department are deeply saddened by the sudden loss of our Chief, Andrew W Cox. Andrew, better known as Drew, served for over 20 years in law enforcement. Chief Cox passed away October 30, 2021 due to a fatal medical incident. He is survived by his wife, Stephanie, who is also a law enforcement officer, as well as their children: Paige, Erin, Shelby, Brady and Jordan. Words cannot express our condolences to his family.
Drew is best known for his dedication to the K-9 program and is a recognized expert in the field statewide. His impact in the Uintah Basin can be seen far and wide as nearly all local law enforcement agencies have expanded their K-9 programs with his influence and expertise.
Prior to becoming Chief, Drew was a dedicated Lieutenant, Officer, and Detective, spending many years investigating the worst kind of crime – crimes against children. He shined working with children as he was a big kid at heart. His dedication to investigating and illuminating child abuse makes him a hero to many.
Chief Cox garnered great respect from those around him throughout his life. He served in various capacities over his long law enforcement tenure, including working with Duchesne County Sheriff's Office, Roosevelt City Police, US Marshal's VFAST Program, Uintah Basin Narcotics Strike Force, UBTech POST Academies, and many others.
Drew created a huge network of friends and colleagues; he was a friend to everyone he met. There wasn't a time he entered a room that everyone didn't know he was there. He spent his life and career trying to make a difference for the people he encountered, both on and off the job. Many will remember his sense of humor and the fact that he always had a joke for everyone.
Our community will miss him greatly. The Naples City Police Department is honored to continue his legacy of service.